Welcome to |Chez Lei|, Saskatoon's Most Exclusive Dining Experience.
|Chez Lei| is said to have been established in the 1980s in communist China. The chef and owner has been travelling the world, enhancing his taste for fine world cuisine. |Chez Lei| is a invitation only restaurant, where the magic never ends. Clients beg to come back for more, but even the reservation system is a secret.

Please fill out the form below, and we will get back to you at an undisclosed time to make your magical reservation happen!

Our special guests are newly weds :)
Powered by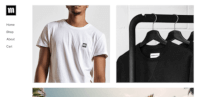 Create your own unique website with customizable templates.